On his evening commute home from his job in San Francisco, Berkeley resident Adam Cohen found a lost dog and rescued him, according to the S.F. Chronicle.
There are a few important things you need to know about that sentence. 1) Cohen's "commute" involves a 22-foot inflatable Sea Raider boat. He drives the thing across the San Francisco bay like a pirate. 2) He found the dog in the middle of the bay, swimming, and hoisted her aboard.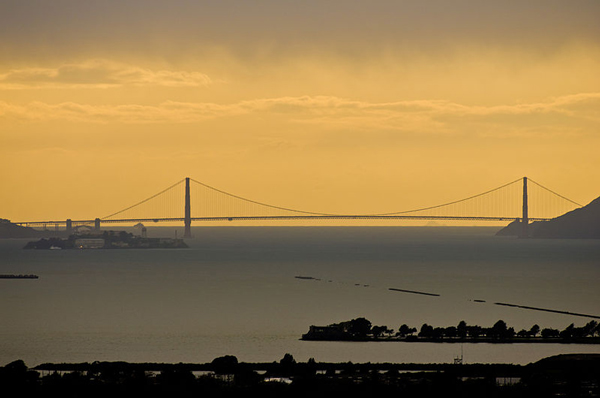 Actually, that's not entirely true. A group of windsurfers first found the dog, and they descended from their boards and huddled around him. That's when Cohen showed up in his Sea Raider. The most excitement people usually have on their commute is spotting a Tesla. 
Cohen is vice president of engineering for a tech startup in the Presidio, according to the story in the Chronicle. He was motoring home when he saw the windsurfers and the dog a quarter mile off the end of the abandoned section of the Berkeley Pier, which is about two miles from shore. The dog looks to be a Labrador–Pit Bull mix.
"She was way out there." he said. "It looked like she was trying to swim to Angel Island."
One of the windsurfers was on the horn with the Coast Guard, trying to get them to rescue the dog. The dog had no tags. Cohen told him to relax. He said he would take the dog home for the night and then to the Berkeley-East Bay Humane Society in the morning.
The dog was shaking and disoriented, but after Cohen took her home and warmed her up, she improved. 
"She's not eating or drinking yet, but she's gotten up and taken a couple of walks in the yard," he said. 
Cohen headed to the humane society with the dog on Tuesday, to see whether she has a microchip and a family looking for her. If she doesn't, Cohen might find himself with a new first mate. 
"My wife says we should keep her," he told the Chron. 
Via the S.F. Chronicle