Gone are the days when you dipped to bended knee in swanky Italian joint and flipped open a box from Zales — today's proposing gentleman needs a hook, an angle, an idea that pops to set him apart from all the schlubs who'll never go viral in a million years.
Dogs. He needs dogs. 
Specifically, 15 French Bulldogs, exactly, as Rob Micallef figured out. First off, understand that his girlfriend said yes ("SHE SAID YES, MA!") so anybody who thinks these elaborate proposals with 15 French Bulldogs aren't necessary just has to look at Rob Micallef and Jessica Sammut, the betrothed, and lower his eyes in shame.
Here's how it went down, over there in magical Brooklyn. Rob inquired if Jessica would like to stroll through the park, a regular habit of theirs. She accepted. It was snowy, romance-drenched weather. They came upon a single Frenchie in a red sweatshirt wearing a heart-shaped balloon (<—-THIS WAS ROB'S DOING!) 
Rob suggested they follow the dog, because WILL YOU MARRY — wait, no. Not yet. 
They followed the dog — of course they did, thought Jessica, because she was obsessed with the breed, according to People — and rounded a corner and turned a bend and what's this, Rob? Rob? What have you done, Rob? 
Fifteen French Bulldogs, mulling around the park's Prison Ship Martyrs' Monument, each with a human member of the "A Frenchie in Brooklyn" doggie meet-up group holding a big sign. That's what Rob had done. And on his cue, those 15 flipped over their signs. 
"AMRRY ME JSES" the signs read. No, wait: "MARRY ME JESS."
At her foot, Rob had descended to one knee, a ring in his hands. 
"Yes!" she said, as the crowd cheered and the Frenchies turned circles (it was cold). And then, pointing to the Frenchies, she joked, "I'm more interested in the dogs!"  
So far this makes two such proposals on record. In October of last year, Edward Grant enlisted 16 Pugs to help him propose to his girlfriend in Central Park, also with the help of a doggie meet-up group.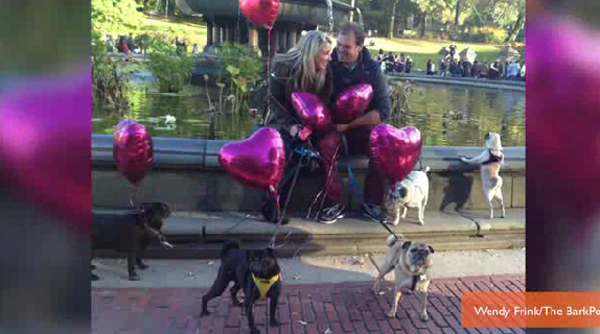 "Whenever we see a Pug, Alex's face lights up and she chases it down the road to say hi," he told the New York Daily News. "She's never happier than when she sees a Pug so I thought I would make her super happy by seeing 16 at once, and then I hoped even happier by proposing to her."
How did it go? It worked. Of course it did. I mean, 16 Pugs. Really.
"I went over to see the first Pug and have a chat with the owner, then when I turned round I was suddenly surrounded by Pugs," Alex said. "It was amazing and I couldn't stop smiling, and then I think the penny dropped that something was about to happen."  
And something did happen. She said yes. 
Via People
Check out these adorable stories on Dogster: