On Friday, a seven-year-old Border Collie, Laddy, escaped from his yard at his home in Davenport, Iowa, outwitting his Invisible Fence after the batteries in his collar died. As the weekend progressed with no sign of the dog, his owner, Cynthia Weeks, was beside herself. 
"We went around calling for him, and I drove around," Weeks told the Quad City Times. "I put it on my Facebook pages, and we put fliers out around the neighborhood."
She needn't be worried. Laddy had only made it a few blocks before heading up a tree — and getting stuck there. 
"I asked where they found him, and the officer said, 'You'll never believe this,'" she said.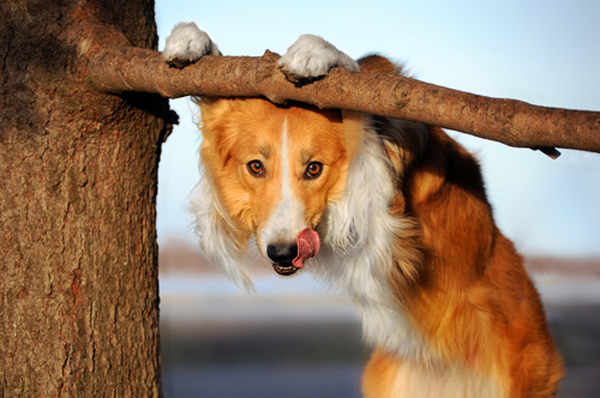 It turns out that Ron Stevenson, two blocks away, had heard a dog barking lately but hadn't paid it much mind. 
"I'd been hearing this dog barking, but I didn't want to be a complaining neighbor and, besides, my wife and I are dog lovers," he told the Quad City Times Monday.
Then, on the Sunday morning, the dog's barking changed into something much sadder. The sound of a dog barking had turned into the sound of a dog whining. He went outside, looked around, finally looked up, and yep, there was a dog in his tree. He called 911 for some guidance.
"They got here pretty fast, but I was getting impatient," he said. "I didn't know if the dog would bite me, but I just sort of shimmied up the tree. I grabbed him by the collar and sort of pulled him. I said, 'It's time for you to get out of this tree.'"
Luckily, the right cop arrived on the scene. He had seen one of Weeks' "lost dog" flyers, and Laddy was back with his scared owner in short order.
Weeks believes Laddy's fondness for squirrels might have led him up the tree. That, and being a Border Collie.  
"People will stop and watch Laddy when he's playing Frisbee in the yard, because he's so fast and so agile," she said. "He is persistent, needless to say. Border Collies are built for stamina."
Laddy is fine, with just a few abrasions on the bottoms of his feet. Weeks said the dog was "subdued" when he got home, and he has been sleeping a ton.
"You could tell the cat knew something was amiss."
Via the Quad City Times.