The town of Norwalk was on high alert. A lion had been sighted. Norwalk is in Los Angeles. The lion was walking down a residential street, right in front of a home on the 11000 block of Tina Street. Lions don't usually make their way to Tina Street, so everybody — even the mayor, even Department of Fish and Wildlife — was freaking out, according to CBS Los Angeles.  
(Although, to be fair, the Department of Fish and Wildlife doesn't really "freak out.") 
What kind of lion, you wonder? A regular lion-type lion, not a mountain lion; a Siegfried and Roy-type lion. In the CBS story from Aug. 1: "The animal appeared to have a mane and looked more like the type of lion seen at a circus or zoo and appeared to be non-aggressive."
Norwalk Public Information Officer Jeff Hobbs said he received "confirmation" that the animal "was not a mountain lion."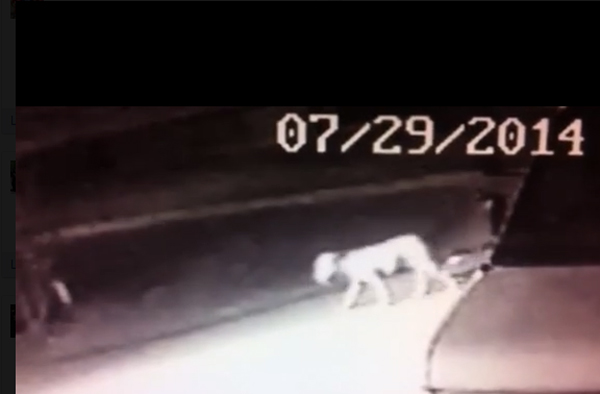 What's more, a professor at t'/-[he University of Minnesota Lion Research Center, Craig Packer, watched the video and told the Los Angeles Times that "it certainly does look like an African lion. It's not a cougar." 
The beast was captured on surveillance video, which was sent to Department of Fish and Wildlife, presumably with a note attached that read, WTF? Since then, nobody has been able to figure out why a lion was walking around Tina Street. The mayor increased patrols and the Fish and Wildlife has been working up a plan to trap the animal, whatever it is.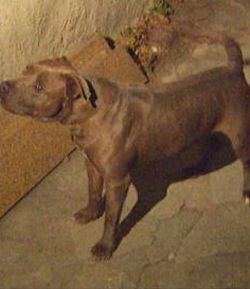 Now, let's turn our attention to Buddy. He's a Pit Bull. He lives near Tina Street. He got out the night the lion was spotted. When Buddy's owner saw the video of the lion, he looked at his dog, looked at the video, looked at his dog, looked at the video, sighed, and called city officials.  
That's not a lion, he told them: That's my dog.

City officials came out to look at the Pit Bull, inspecting him for signs of lion-ness. The found none. This was a dog, they concluded. The lion in the video is a lion. 
So, two security surveillance companies conducted a simulation to settle the matter. They re-created the scene in which the lion walked around, and had Buddy walk around. He was game. They filmed it with the same sort of security cameras and watched the video. 
"My verdict is the dog in the backyard is similar in size, the tail is the same, and the same mannerisms as what was seen on the video from prior," said Matthew Adling of Hudson Investigations. "Buddy is the one."
"I could tell it was Buddy," says Adrian Nunez, Buddy's owner, according to CBS Los Angeles.
So, case closed, sort of. A lot of people still think Buddy is a lion.
What do we think? That's a dog. Watch the surveillance video and tell us that isn't a dog. 
L.A. is a weird place. 
Via CBS Los Angeles.
Read about dogs in the news on Dogster: