The press release came across the transom yesterday: "American Eagle Outfitters, Inc. (NYSE: AEO)," it began, "announces today its first-ever matching clothing line for dogs and their owners, American Beagle Outfitters, launching Spring 2014."
We were intrigued — clothes for dogs is breaking news around here. But what is this "matching" business?
"Designed to perfectly match their owner's on-trend American Eagle wardrobe, the canine collection features must-haves such as slimming doggy jeggings, fur-friendly bikinis and statement accessories, creating head-to-tail looks that complement the unique style and personality of every pooch, big or small." 
I see. A fur-friendly bikini that matches his "on-trend" owner's outfit. Hmm …. 
In cases like this, there is only one thing to do. You pull out your calendar, find April 1, and count back to the present day, the day when your mind is being blown by all these insane doggie outfits and doggie bikinis and giant retailers announcing they are making something called American Beagle Outfitters, launching Spring 2014.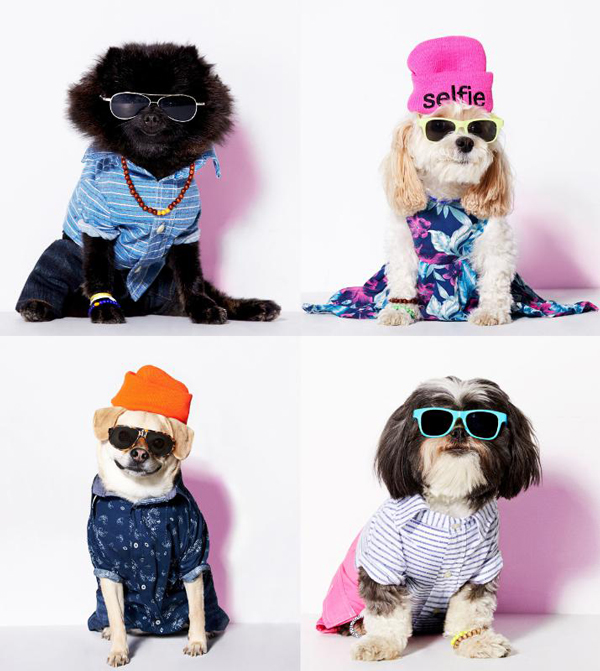 We did so. Eight days, well within the incubation period for a properly done April Fool's joke. Buzzfeed thought so too, and it came right out asked a spokesperson if the company was pulling the Internet's leg early this year. (Note to Buzzfeed: Nothing spoils an April Fool's joke like asking the company spokesperson if it's an April Fool's joke.) 
The American Eagle spokesperson wouldn't confirm for deny it, adding that a nondisclosure agreement process would be required to talk further.
So I guess we'll never know. 
Anyhow, the documentary American Eagle Outfitters made about the new line is a brilliant, highly produced piece of doggy goodness. It runs through the creation of the line, from how the designers came up with the idea to creating the pieces in the studio to photo shoots with dogs wearing the new duds. It's an amazing piece of work, and no way is it fake, at least not until April 1. 
Check out these adorable stories on Dogster: