We don't quite know what to make of this video, because it's of a guy in a wingsuit BASE jumping with his dog strapped to his back. Nothing not crazy about that.
But before you watch it, understand that Dean Potter is a professional in this sort of thing. In an article about the jump and the film that goes with it, When Dogs Fly, National Geographic writes, "Dean Potter's evolution over the past two decades from innovative rock climbing and linewalking to free-solo climbing to his hybrids free-BASE climbing and BASE-line walking have made him one of the most iconic and pioneering adventurers of his generation."
We don't understand half of that, but suffice it to say Potter knows his way around a hackey sack. We're not saying that excuses any of this flying with dogs, just that we're glad Potter is the guy BASE jumping with his dog if someone has to BASE jump with his dog. (Of course, nobody should have to BASE jump with his dog, but this is the world we're apparently in now.) 
Potter claims that his dog "loves being in her BASE-pack," and after a flight, "Whispy is so excited. She runs around and shows off and celebrates and barks and yips with joy."
But still: A dog dropping out of the sky. A thing like that. 
Potter says his dog is well-acclimated to situations like plummeting to Earth: "We do a lot of roped rock climbing with Miss Whisper. We raised and lowered Whisper on static lines repeatedly during our big wall climbs of El Capitan with her. During these times, she's gotten very used to exposure and the sensation of free hanging in the air. Also, Whisper would ride on my bicycle and motorcycle (up to 60 mph) a lot with me and got used to high speeds. She seemed to love the wind speed and begged to do it again and again."
"She swims, surfs, skis, paraglides, and rock climbs," he tells the magazine. "She goes mountaineering, mountain biking, and long-distance running."
As for gear, Potter had Pete Swan build a special harness for Whisper, which they tested using sand bags. Notably, Potter says that no one told him not to jump off a cliff with his dog. 
"Anyone who knows me knows that I would never put my dog in harm's way. They also know that I'm a 'gear-geek' who has been innovating the best gear in climbing, line walking, and flying for the past 20 years and knows more about safety than most anyone else in the outdoor industry." 
So far, the pair have a dozen wing-suit BASE-flights together but have recently taken a break so he can work on the design. 
And with that, look out below: 
Intense, right? But Whisper does look happy at the end of it all, and in that spirit, we wondered what the dog was thinking about during that mind-blowing vertical drop.  
23 things Whisper was thinking about during that mind-blowing vertical drop 
Holy mother of God!
Hey, that cloud looks like a marshmallow.
Boy, I'm hungry.  
I had a hamburger once. 
I could go for a hamburger right now, to tell you the truth.
I wonder if there's any hamburgers around here.
I've really got to pee.
I like oranges. 
Wait, did I find that candy bar yesterday, or was it the day before? 
I hope I find another candy bar today.
I should search the whole house again to be sure. 
That's a nice looking bird. 
I wonder what that bird tastes like. 
I wish I could eat that bird.
I bet another candy bar is in the trash can, come to think of it. Best to check later.
Opp, there goes the parachute. 
That parachute looks like a potato chip. 
I bet I can eat that parachute. 
I should try and eat that parachute when we're on the ground. 
Oh good, there's the ground, life goes on. 
I'll tell you what, this beats the time we went bungee jumping.  
Being a dog is weird. 
I really hope Dean gives me a hamburger.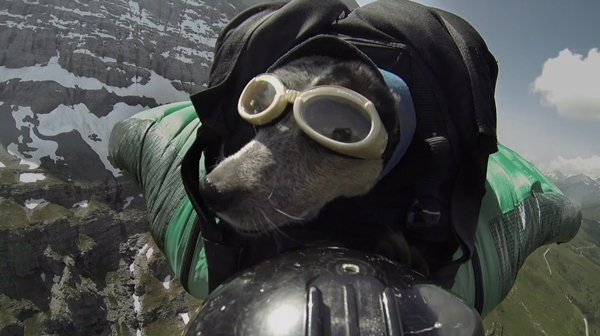 So, what do you think of this? Should Potter be praised or damned? He's clearly putting his dog in risky situations, and no question the dog has experienced more than a few hair-raising moments in the past, even if he handles extreme experiences well now.
Or do you think Potter has managed to usher his dog into his lifestyle in a responsible way and is giving him a full life? Let us know what you think in the comments. 
Via National Geographic 
Read about dogs in the news on Dogster: