It's a horrible story you might have seen in the news: A dog fell to its death from the 43rd floor of a high-rise condo building in the Lakeshore East neighborhood on Wednesday, according to CBS Chicago.  
You would be tempted to write this off as a tragic accident — things happen — until the rest of the story comes out. A cat fell off this very same balcony, and died, just three days before the dog fell. 
What on Earth is going on in that condo? 
The condo's tenant, a 26-year-old musician named Ryan, is claiming both are simply accidents. He's been in the process of moving. The dog who fell, a Rottweiler/Shar-Pei mix named Duke, belonged to Ryan's mother. She brought the dog with them when they came over to help Ryan move. They had piled boxes and furniture on the balcony while cleaning the apartment. 
"It created a ladder that no one was thinking of," Ryan told the Chicago Sun-Times. 
Nobody was home when the dog fell. After Ryan's step-dad returned to the apartment and couldn't find the dog, he tracked Ryan down at a friend's apartment a few floors away. 
"He was in shock and he was like, 'Where's the dog?' and since this had just happened to the cat … I already figured the worst," said Ryan. 
They went back to the balcony, peeked over the edge, and saw police cars by the front door of the building. Ryan said his step-dad "couldn't even hardly talk. He put this dog almost as high up as my mom and my little sister."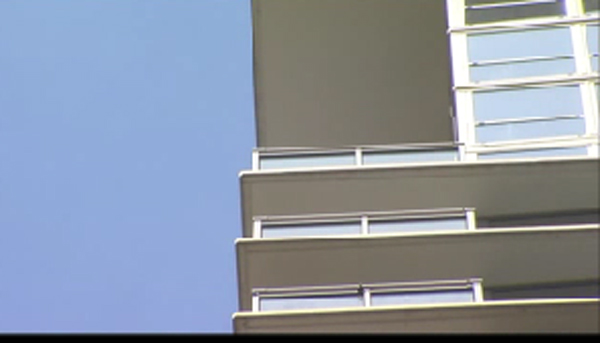 One woman and her boyfriend were walking their dog outside when Duke hit the ground. The boyfriend said Duke hit on his side and died instantly. 
"He can't get the vision out of his head, or the sound," the woman told CBS Chicago. "He's pretty torn up about it. I've never really seen him like this before."
Investigators, of course, were skeptical.
"Police were questioning and threatening to arrest me," Ryan said. "Slowly but surely they, thank God, they believed what I told them.
They were skeptical because three days before, one of Ryan's cats went over the edge and died. This, too, was a tragic accident related to his moving, according to Ryan. He says the cats, Ash and Oak — one of them a two-month-old kitten, according to the Huffington Post — were old hands on the balcony. But then Ryan's mother came over with Duke. The cats were on the balcony, with the glass door shut. The dog ran up to the door, startling the kitten.
"I'd convinced myself thoroughly that there's no way these cats would even slip off because they had that instinctual fear that right over this edge is a big drop … but, I guess they freaked out because they never had a dog in their face before," Ryan told the Sun-Times. "I'm assuming one of them got skittish, went on the edge and just kind of jumped when they saw [Duke] through a glass window."
Three days later, Duke would go off the same balcony.