You remember Cecil Williams. He's the blind man who fell onto the New York City subway tracks, taking his guide dog, an 11-year-old black Labrador named Orlando, with him. Orlando had tried to hold Cecil up before he fell — Cecil had become lightheaded and dizzy — and once on the tracks, Orlando wouldn't leave Cecil's side. Despite the train coming at them. Despite the train going over them.  
That's right — both Cecil and his dog managed to lie down and duck at the right moment. 
"The dog was sitting right in front of him, kind of like he was guarding him," Transit Flagman Larmont Smith told the New York Daily News. "I give that dog a lot of credit. It was incredible. Normally an animal, or another human being, would run. That dog stayed right there."
"I only had seconds," Smith continued, describing the train's approach. "I yelled, 'Put your head down! Put your head down!' I don't think he heard me the first two times, but after the third time, he put his head down."
Amazingly, the two emerged unhurt. Williams stated that his dog "saved my life," and Orlando received accolades from all of New York and beyond.
Then, a harsh truth emerged: At 11 years old, Orlando was being forced to retire and would have to leave Williams, given that his insurance would only pay for an active working dog and Williams was unable to afford the dog. 
The Internet was outraged. And then Internet rallied, on donation sites like Indiegogo and Gofundme. And soon there was more than enough money to let Cecil keep both dogs. Only there was still only one dog — the brave Orlando. 
Until now. Meet Godiva, a yellow Labrador, who recently graduated from her training program at Guiding Eyes for the Blind. She's now under Cecil's care and learning the ropes from the best. 
"After a while, Orlando will learn he can put his feet up and it's going to be Godiva's turn to work," Michelle Brier, a spokeswoman for the organization, told Today.com.  
Cecil has been "moved to tears" by the outpouring of support.  
"I feel that I was blessed with Orlando, right? And now I'm being blessed again," he said. "He saved me, and now she's coming along to carry on where he left off."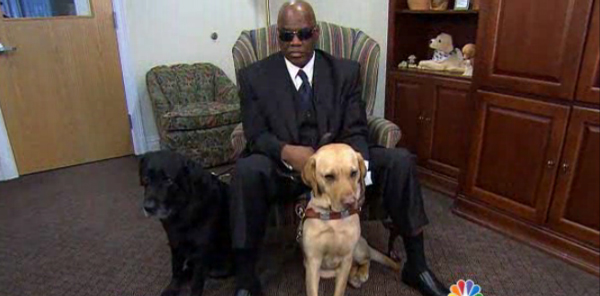 "The spirit of good will, it exists," he said.
Via Today.com.
Read the most talked about news on Dogster: