On Friday morning, 13 search warrants were executed throughout Alabama, Mississippi, Georgia, and Texas, the result of a three-year investigation initiated by the Auburn Police, according to the ASPCA and the Humane Society of the United States. Ten people were arrested on felony dog fighting charges, and authorities confiscated drugs, firearms, and more than $500,000 associated with dog-fighting operations. 
They also rescued dogs — 367 of them. Many were emaciated, with dog-fighting scars and wounds, left in extreme heat with no visible food or water. Many were tethered by chains and cables attached to cinder blocks and car tires.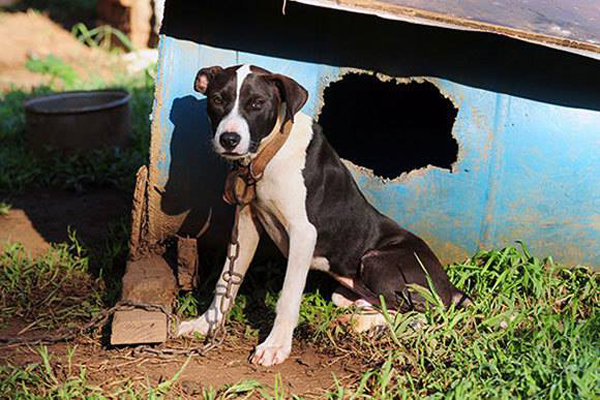 "I believe if Dante were alive today and rewriting the Inferno that the lowest places in hell would be reserved for those who commit cruelty to our animals and to our children," U.S. Attorney George Beck said at a news conference, according to the AP. 
Coffee County Sheriff David Sutton said the dogs at one Elba home in Alabama were covered in fleas and secured by chains attached to car axles buried in the ground. 
"Those animals can't speak like you and I," Sutton said. "They bark and they whine. We chose to speak for them, and I believe we sent a message out. … If you do the crime, we are going to come see you."
The ASPCA and the Humane Society say the dogs are at undisclosed locations, and they will have to be kept as evidence. Ultimately, however, they hope to adopt them to good homes. 
"They are finally getting a loving hand from responders who care for these dogs, but sadly there are many other dogs out there going through this type of abuse," ASPCA Vice President Tim Rickey said.
The ASPCA and the Humane Society of the United States were among the first responders. In a statement, the groups painted a grim picture of what they found: 
Makeshift, filthy doghouses — many improvised from plastic and metal barrels and others made of chipboard with rotting wood floors and rusted metal roofing — provided the only shelter in the sweltering heat and humidity. 
In one yard, 114 dogs, the majority tethered to heavy chains, sat in 90 degree heat, scratching at fleas, with no fresh water or food visible anywhere on the property. 
A female dog did her best to tend to six puppies, just weeks old, with no food or water, in a pen littered with trash and feces.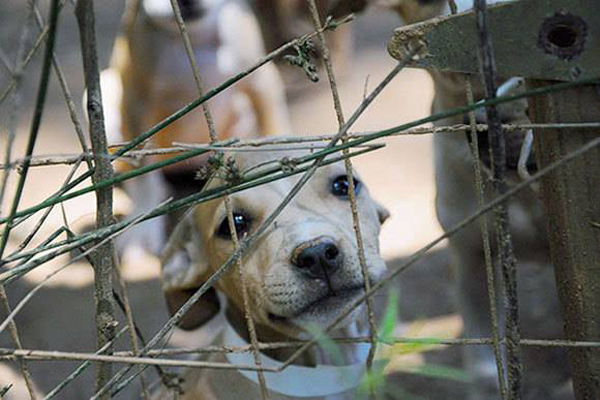 "These dogfighters abuse, starve and kill their dogs for the supposed 'fun' of watching and gambling on a dogfight," said U.S. Attorney Beck. "Their behavior is deplorable, will not be tolerated, and will be punished to the full extent of the law."
Beck says that the men could face "lengthy" prison terms if convicted. 
"Today we ended the torture of hundreds of abused and neglected dogs," said Matt Bershadker, president and CEO of the ASPCA. "Never again will these dogs be forced to fight, live in squalor, or be neglected and deprived of the bare necessities."
Via the Humane Society of the United States; photos via ASCPA's Facebook page