Last month dog lovers, and, in particular, Pit Bull fans celebrated National Pitbull Awareness Month, designed to change perceptions and stereotypes about Pit Bulls and their responsible owners. Fortunately, celebrities such as Rachael Ray and Denise Richards are getting on board. Such support is doing a lot to help restore the Pit's image as a lovable family dog.  
"Pit Bulls weren't always synonymous with a bad dog image," explains celebrity dog trainer Harrison Forbes of Franklin, Tennessee. Forbes himself is a family man with a lovable Pit Bull named Ruger.  
"Back in the '70s, the Doberman was the tough guy's dog of choice, and then it was the Rottweiler in the '80s," Forbes says. "The Pit Bull is just the latest trend. It's just sustained this image a lot longer in the cycle of the tough dog breed because they have what behaviorists call a 'soft temperament,' which means that they are easy to handle and look a lot tougher than they are."
The reason so many Pit Bulls are still landing in shelters around the country is that the wrong people are getting this type of dog for the wrong reasons. 
Forbes helped actress Denise Richards rehome a dog she rescued but couldn't keep because she already had the maximum number of pets legally allowed on her property. Richards even paid for the dog to be in doggie daycare until it was adopted.  
The Animal Planet show Pit Boss, where Pit Bull devotee Shorty Rossi, takes on the gargantuan task of rescuing, rehabbing, and training them, has done a lot to restore the image. 
But leading the celebrity bandwagon is TV personality Rachael Ray. Ray has started a rescue organization called Rachael's Rescue to find Pit Bulls forever homes, which is funded with the proceeds of her pet food line Nutrish. She also uses her celebrity to promote her favorite pooch, Isaboo, as a poster child showing the endearing charm of Pit Bulls.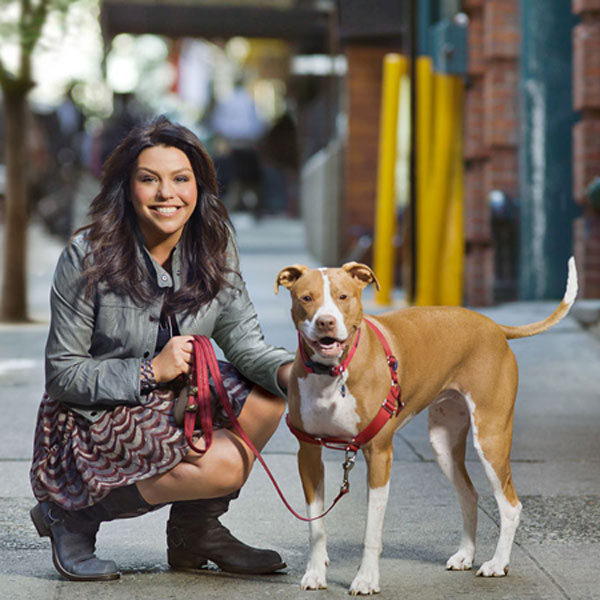 Although her pooch has been well-schooled in good manners around the house, Ray admits that just like any other dog, Isaboo knows how to take advantage of her mom. To show her pooch's soft lovable personality, she shared Isaboo's favorite things with Dogster.
Favorite Food: "It's my lamb with orzo. She loves that. We make Izzie a dog version of whatever we're eating as a family every night." 
Favorite Color: "Orange. It's the color of hunger awareness, and she happens to look so darn good in it. I love to dress her up."
Isaboo's Pet Hate: "Dogs with a Napoleon complex — she just doesn't get it. She especially loves little dogs and wants to play. And she doesn't understand cats; she thinks they are cute dogs. My mother has 15 cats and she sits down on the floor crying and begging them to play with her."
Favorite Pastime: "A good nap in the middle of my pillows with her favorite cashmere blanket covering her."
Favorite thing to do with Rachael: "We love to watch movies together, especially teary ones. She helps me calm down after a good drama or a tragic love story. I really need her. I know it sounds ridiculous, but I loved the movie District 9. I cried so hard when the main character made a little metal rose out of a garbage can for his girlfriend. Izzie came over and started kissing me and trying to clean me up with an expression on her face that said 'Snap out of it!'"
Isaboo's pet name for Rachael (if she could talk): "It would be Ma, of course! And she would say something like 'Ma! Really, Ma! Get a hobby, Ma, and stop staring at me!' "
Fortunately, more rescue shelters are starting to develop enrichment programs that offer some of the same opportunities that dogs get in foster homes. For example, basic obedience training, play groups, and even off-site field trips with volunteers. 
If you are planning to adopt a Pit Bull, don't be shy about asking the shelter or rescue a lot of questions about their programs. Learn about what kinds of routines the dogs have gone through while waiting to be rehomed. This way you can continue this methodology at home. 
About the author: Sandy Robins is an award-winning multimedia pet lifestyle expert and author and spokesperson. She is the 2013 recipient of the Outstanding Journalism and Contribution to the Pet Industry award, presented by the American Pet products Association. Her third cat book, The Original Cat Bible, will be on bookshelves spring 2014. She lives in southern California with her family and fur kids cats Fudge and Ziggy, and has been voted "favorite auntie" by every dog on the block. Follow her on Facebook.
Read more about Pit Bulls and their fans: