The dauntless Doberman Pinscher is one of the most intelligent breeds of dogs. They're also athletic, loyal, brave and vigilant. They may act like soldiers in public, but they're more like clowns in private. When a security Doberman named Barney made news after ripping up a $75,000 teddy bear, along with other stuffed toys he was supposed to be guarding in an exhibit, it came as no surprise to most Doberman owners! 
Those who live with a Dobe know they're lovers, not fighters, even if they do have a history of military service.
In the late 19th century, German tax collector Louis Dobermann created a guard dog to accompany and protect him against bandits on his tax rounds. Dobermann also ran the local dog pound, so he had access to all sorts of dogs. The breed he created was thought to be a mixture of German Pinscher, Beauceron, Rottweiler, Great Dane, and other dogs, although the exact crosses aren't known. Later documented crosses to the Manchester Terrier and Greyhound were made.
The dogs gained favor as police, guard and military dogs, and their popularity grew following both World Wars.
The breed is simply known as the "Dobermann" is most parts of the world, using the proper spelling of its creator's name, and dropping the "pinscher" which, meaning terrier, seemed incorrect for the breed.
During World War II, the United States Marine Corps adopted the Doberman as its official war dog.
After World War II, the breed was in danger of being lost, as no litters were born in West Germany in nine years. One man gathered up the best specimens he could find and bred them to some oversized Miniature Pinschers, along with a female he smuggled in from East Germany. Most current Dobes descend from these dogs.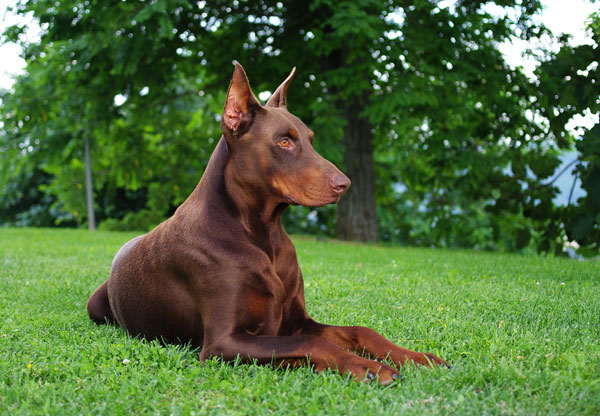 Most Dobermans are black and tan. Red and tan, the second most popular color, is caused by the presence of two recessive "b" alleles at the B locus. Black and tan Dobes also have at least one dominant D allele at the D locus; if they have two recessive d alleles then they are gray ("blue") and tan. If a red and tan Dobe has two d alleles (in addition to its two b alleles) it will be fawn and tan, a color termed "Isabella." Blue and Isabella Dobes are more likely to have a hair-loss condition called color dilution alopecia.
Dobermans are one of the few breeds in which albino-like dogs are found. These dogs, which descend from a dog whelped in the 1970s, have white fur, a pinkish nose and blue eyes. They are very controversial, and cannot be shown in AKC conformation events.
The ears are customarily cropped, and the tail docked, in the United States, but not in many other countries.
Dobermans were the second most popular breed in America in 1977.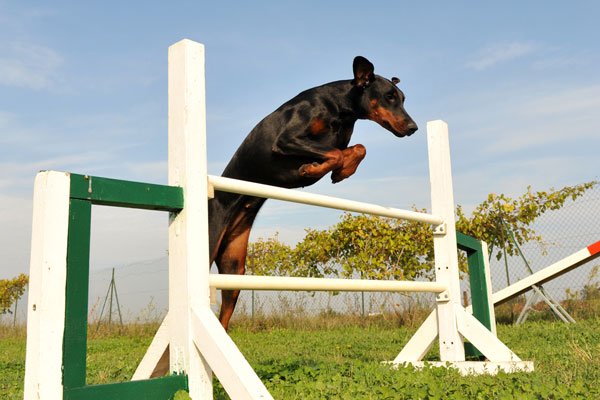 Dobes have been the target of breed specific legislation in some places.
Dobermans have appeared in many films, including The Doberman Gang, Eyes of an Angel, and Resident Evil; and in TV series such as Magnum, P.I.
Dobermans have been extremely successful show and obedience dogs. Several have won Best in Show at the Westminster Kennel Club.
Owners include Rudolph Valentino, Bela Lugosi, John F. Kennedy, Raquel Welch, William Shatner, Priscilla Presley, Nicolas Cage, Victoria Principal, Mark Breland, Beatrice Arthur, Forest Whitaker, Gretchen Wyler, Lance Ito, Hunter Thompson, Mariah Carey, Jean-Christophe Novelli, and Tanya Roberts.
Do you own a Doberman Pinscher? Have you spent time with one? Let's hear what you think about this fascinating breed in the comments! And if you have a favorite breed you'd like us to write about, let us know that, too! 
About the author: Caroline Coile is the author of 34 dog books, including the top-selling Barron's Encyclopedia of Dog Breeds. She has written for various publications and is currently a columnist for AKC Family Dog. She shares her home with three naughty Salukis and one Jack Russell Terrier. 
Read more about Dobermans on Dogster: