Editor's note: We're celebrating senior dogs throughout November because it's Adopt a Senior Pet Month. David has kindly given us two copies of Beautiful Old Dogs for Dogster readers. Read the article and then find out how you might win one. 
Since I began creating my book, Beautiful Old Dogs, I've come to notice every dog I pass on the street, and in New York City that can quickly become a steady obsession. I've become enchanted by all the distinct personalities and appreciative of the relationships I've observed between these dogs and the human beings they are leading by a leash.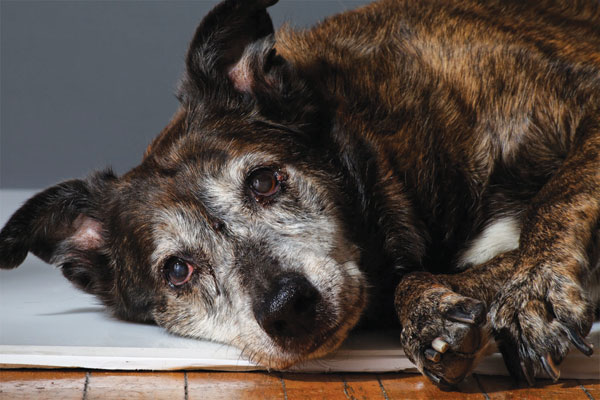 As a child, my experience with animals was limited. I raised a turtle and the occasional frog. While fascinating, neither was exactly faithful. I still have nightmares from flushing goldfish down the toilet. And I still don't know what happened to that ant colony I ordered in the mail. Let's just say I've never felt the beauty of having a dog. But I'm catching up now!
When I encountered the exquisite, soulful portraits of senior dogs by Garry Gross, I was immediately touched by Garry's empathy, for aging dogs and humans alike. 
"The older the better," he said. "Dogs with soul in their eyes." 
But Beautiful Old Dogs is about more than compassion. It's meant to honor our senior best friends and explore their current state of care and custody. Unfortunately, senior dogs are often overlooked, underloved, and mistreated; in fact, many are carelessly cast away to live out the last chapters of their lives alone, underfed and in pain. 
But it doesn't have to be this way. Many organizations are devoting their resources to looking after senior dogs, offering hopeful alternatives by finding aging dogs nurturing homes to live out their final years. Some are matching senior dogs with senior people, which seems especially fitting.
I'm sure that, inspired by what I've learned doing this book, I will eventually join the crowd and reap the benefits of having a dog, an older one in particular. In fact, as soon as my daughter goes off to college next year, I'm planning to replace her with a new, four-legged friend. 
Enter to win a copy of Beautiful Old Dogs
Have you shared your life with a senior dog? What have you learned from your elderpup? Let us know in the comments.
Create a Disqus account, if you haven't already, and include a valid email. It takes just a minute and allows you to better participate in Dogster's community of people who are passionate about dogs. If you already have a Disqus account, check it to ensure the account includes a valid email.
Comment below using your Disqus account, following the directions above. Our favorite comment wins! You must be a U.S. resident to win. 
Check your email for a "You've Won!" message from us after noon PST on Wednesday, Nov. 27. We'll give the winner two days to respond before moving on to our next favorite comment.
Good luck!
About the author: David Tabatsky is the editor of Beautiful Old Dogs. He is a writer, editor, teacher, and performing artist, and he is also the founder of Write for Life, dedicated to presenting writing and communication workshops in cancer centers around the country for patients, caregivers and medical staff. He teaches writing at The Cooper Union and circus arts and theatre in New York City public schools. Visit his website at www.Tabatsky.com.