We like the folks at P.L.A.Y. because they've created a brand with a strong point-of-view (check out their "beliefs" page) and quality, drool-worthy products to go with it. They get that good design is a quick way to curry favor with pet parents, and create dog toys and beds you'll want to display when your friends come over instead of hiding them in a back room.
Week 1 Giveaway: Send Your Season's Greetings
For the first week in this giveaway series, we're giving away three of P.L.A.Y.'s greeting card and gift tag sets (a $25.50 value). Each set contains six greeting cards, six natural-colored envelopes and six gift cards — all featuring dog themes.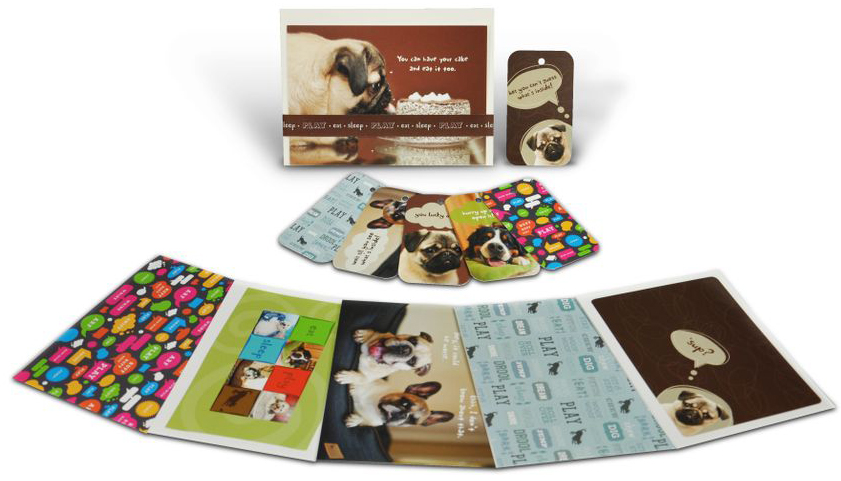 Why you want them:
+ They are ridiculously cute and will be a hit with the dog lovers on your gift list.
+ These are all-occasion cards that will last you well beyond the holiday season.
+ They're made using 100% post-consumer waste.
+ Did we mention they're free?!
How to win:
To enter, first "LIKE" P.L.A.Y. on Facebook. Then come back to this page and leave a comment below to telling us you did so and why you'd like to win. We'll pick three random winners on Sunday, November 25, at noon PST and contact them via e-mail. You'll have two days to respond or we'll pick another winner. (Sorry, that's just how it goes!)
Creating a Disqus profile and avatar just takes a minute and is a great way to participate in Dogster's community of people who are passionate about dogs. Please note that if your Disqus account doesn't contain a valid email address, you can't win because we can't contact you. That blows! So, pretty please, check your account.
Do remember to check back next Monday, November 26, to enter our second giveaway with P.L.A.Y.! Best of luck, everyone.